during the rise of my baking obsession, i have come to pick up on a few things which can essentially alter a cupcake's shape, size, colour and texture. some maybe obvious to the avid baker but could serve as helpful to others!
making a hole/dip in the centre of the mixture before placing into the oven helps the cake to rise evenly such as in the picture below.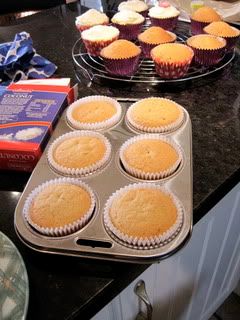 i also used this technique on the cupcakes seen on the cooling rack however, these were either placed too far to the back of the oven or contained too much mixture in that particular case...
...always fill each case just above half way.