no matter how much i practice, i just can't seem to create that fancy frosting. naturally, i blame the palette knife every time - mostly for being on the small side.

the primrose bakery's book of tricks reveals how to ice the perfect cupcake...

1. To keep the consistency as smooth as possible, beat the icing with an electric hand beater before starting. Between icing each cupcake, use a knife to stir the icing.



2. Start by scooping up the most buttercream you can in one go with a palette knife and place it in the centre of the cupcake.


3. Keeping the knife angled, so that its flat side remains in contact with the buttercream, work the icing to one edge of the cupcake by gently pushing it using small strokes with the knife.
4. Take another scoop of buttercream icing and repeat step 3, this time pushing the icing out to the opposite edge of the cupcake.


5. Add one more scoop of icing to the cupcake to bring the edges together, while making a central peak with the remaining icing.


6. Dip the end of the knife into the centre of the iced cupcake and, in an anti-clockwise direction, drag the knife in a circular motion to create a swirl effect.


7. Decorate the cupcake. Make sure to put any sprinkles onto the cupcakes as quickly as possible, otherwise the icing will set a little, making it hard for any decoration to stick.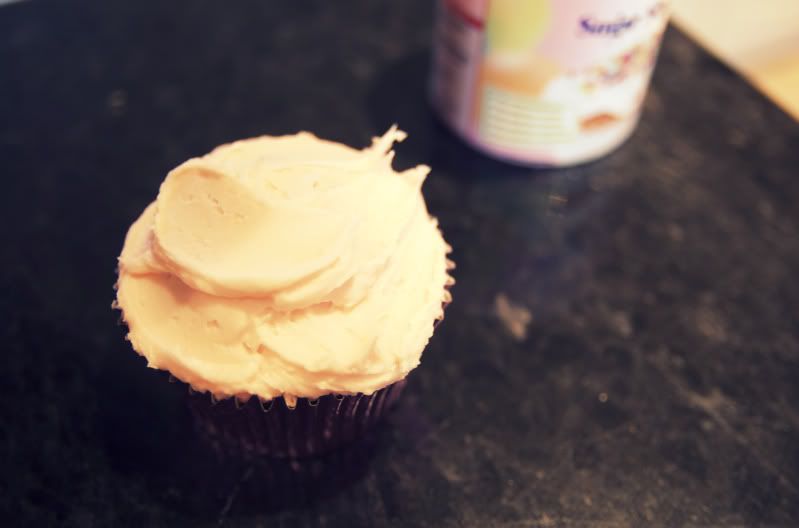 hmmm, maybe next time...
Read
more from the founders of the primrose bakery, martha swift and lisa thomas.