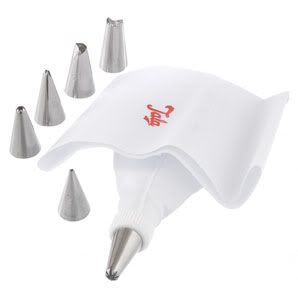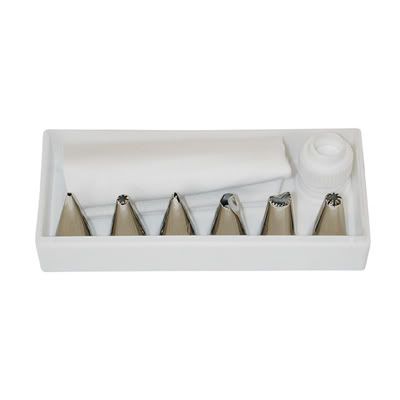 i was so generously given this piping set by tala as a birthday present last year by mother winkwell (only because she'd grown tired of my constant usage of her own icing set!)
i adore tala products as they always exude retro. this particular 6-piece set may not be as fancy as some of its sister products but it's still well presented in a tidy box complete with sections for each nozzle.
the six different varieties are quite diverse, including a rose tip, which i will post a 'how-to' tutorial soon, although i would like to see at least one chunkier tip as i tend to use these when frosting cupcakes. the icing bag itself is not up to scratch as after just one use, the frosting seeps out of the seams - a 'little' inconvenient when trying to concentrate on a fiddly icing trick.
i've noticed that many people recommend disposable icing bags which i'm considering testing but all in all and A for effort and a 6/10.
next up - the swift piping set (thanks, santa)