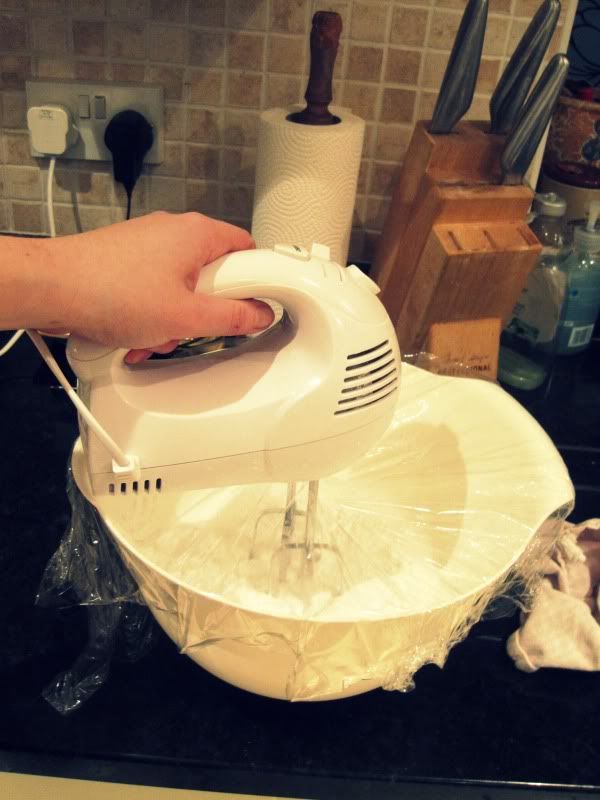 ever tried to whisk up some buttercream frosting and the second the electric mixer hits the icing sugar you breath in a nice waft of sweet air? let's face it, icing sugar goes EVERYWHERE. the only solution i've managed to conjure up is going old school - a wooden spoon and melted butter (almost to a liquid). if you slowly fold the butter into the icing sugar so they're partly combined, less icing sugar will float up into the air and the cleaner the kitchen (ie/ happy mother).

another suggestion i have come across is the aid of cling film. however, when i put this insider tip to the test, i foolishly used a plastic bowl which the cling film refused to cooperate with (a glass bowl is probably going to work best for this).

before fixing the two metal whisks into position on the electric handle, pierce two holes in the middle of your piece of film.

stand the two whisks in the icing sugar mixture and cover the bowl with cling film, making sure the whisks are above the surface, through the previously pierced holes.

next, fix the whisks to the electric mixer and start combining the ingredients. however, the cling film isn't exactly durable so take extra care to prevent further splitting of the holes.

hopefully, you should be able to combine the ingredients in just enough time before the cling film is ripped to shreds!